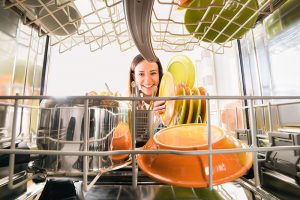 Looking for an dishwasher repair company in Los Angeles Area? Give us a try! We are fast, affordable, and offer same-day dishwasher repairs 7 days a week! Not only we fix all kinds of dishwashers but we also repair Frigidaire appliances like ranges, washers, dryers and refrigerators.
To many of us, dishwasher appliance has become so much more than just a modern convenience. It has entrenched itself as part of our daily lives, saving us precious energy and time as well as keeping our countertops and sinks as clutter-free as possible. Just like every other major home appliance, your Frigidaire dishwasher can breakdown regardless of its constant maintenance. Whether it seems like a minor operational glitch or a significant breakdown in overall cleaning management, hiring an expert Frigidaire dishwasher repair service can make a major difference in the way your appliance performs.
Frigidaire Dishwasher Repair Service in Los Angeles Area From Experts
With our honesty and unbeatable attitude towards work, iFix Appliances can help prolong the life span of your Frigidaire dishwasher. Our repair technicians are factory-trained and certified to handle any Frigidaire dishwasher repair processes. They also undergo a background check to ensure the security and safety of our clients. At iFix Appliances, we are reliable and on time, and we will make you feel confident and comfortable in our repairs on your Frigidaire dishwasher. Our service charges are the most affordable around, with no hidden charges – what you see is what you pay! We look forward to building long-term relationships with you, and we also guarantee your optimum satisfaction!
Same Day Frigidaire Dishwasher Installation, Maintenance and Repair Service
Our technicians are able to fix any built-in and portable Frigidaire dishwasher at the very same day, including Frigidaire, Frigidaire Gallery, and Frigidaire Professional collections. We fix Frigidaire dishwashers in Los Angeles area and adjoining cities. Please check our service area on the map below.
See What Our Customers Say About Our Dishwasher Repair Service
5 out of 5 stars
Mike fixed my dishwasher. He is a family man honest. He identified the problem fast and accurate. He had all the parts in his car, so he be able to fix it just one visit. I appreciate that a lot. Usually it takes a few days just to order parts.
This company around for over 10 years. Very good people working there. They treat workers right also.
Price is ok. Not cheap, but they did their best, I assume.
Overall experience is great. I give 5 stars. For their fast response rate, great attitude, honesty and the time and money I have saved.
Reviewer: Fiona Peterson