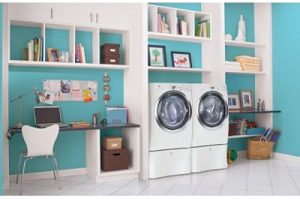 If your washer is not doing what it is supposed to do, it is time you call iFix Appliances. We are arguably the best in the Los Angeles and its surrounding area. Our technicians have a wealth of experience in repairing all makes of washing machines and have the requisite knowledge to make your repairs swiftly and without a fuss. For washer repair Los Angeles service, call us now! We are experienced and reputed: We came into existence more than a decade ago. As any experienced and reliable repairmen, we provide guarantees. All our repairs carry a 30-day labor warrantee and a 3-month part guarantee. Our pricing is competitive – we beat competitors' written estimates by up to 30%!
We Are Washer Repair Experts In Los Angeles Area
The vast majority of service calls for malfunctioning washing machines require only simple repairs such as adjusting a lid safety switch or replacing a belt. Only a small percentage of calls are in answer to difficult technical problems. At iFix Appliances, our washer repair technicians are certified and carry a wealth of experience to handle those problems. It is no wonder their work is great. We can repair washing machines of all brands and their models, ranging from Maytag washer repairs to Kenmore washing machine repair to Whirlpool washer service, and many others. We are confident about dealing with any kind of issue your washer may experience, regardless of the seriousness of the matter.
iFix Appliances holds the belief that excellent workmanship does not equal a slow pace of work. We are proud of our technicians executing one of the quickest turnaround times in the repair of washing machines all over the city of Los Angeles. When you select us to do your service, it means you get back your machine all the more quickly. Our technicians take pride in their work and also do not cut corners.
Our Los Angeles Washer Repair Company Offers Same Day Service
Our rates for washer repair service are competitive and reasonable. iFix Appliances makes reliability and also quality very much affordable.
At iFix Appliances, we understand how badly your life can be affected by a single malfunctioning washing machine. It is the reason we offer quick washer repair solutions to all our customers. When you call our technician, you are assured of a high quality job which will pay dividends for years to come. We will not only repair your washing machine unit, but also make sure that the washer runs in optimal condition and with minimum fuss.
iFix Appliance Repair gets all repairs done within your operating budget. There is no other better company to repair your washing machine. Give us a call today!
Our Washer Repair Technicians Fix Any Type of Washing Machine
We are both residential and industrial laundry appliance repair company operating in Los Angeles, California. We can fix nearly any washing machine related issue regardless the washer's type. Not only washers vary in type but in appearance, and design. They all use three basic systems controlled by electricity: water fill, water drain, and drive for washing, rinsing, and spin-drying the clothes. We fix them all!
Top-loading washers are by far the most popular. Clothes are loaded through an opening or lid in the top of the machine into an upright basket. The basket fills with water, and a gear case or eccentric drive moves a vaned agitator or pulsator back and forth or up and down in the water. Rinsing is provided by flooding fresh water through the washed clothing.
In front-loading types, the drum is filled with water and soap and it spins to tumble the clothing clean. The force of the drop from the revolving drum and the water action remove dirt. Rinsing is provided by a series of fresh water charges entering and leaving the drum. Front-loading types tend to be gentler on clothes than machines with agitators, but are considerably more expensive.
Compact washers typically use impellers to circulate the water in the wash tub. Then, the clothing is moved to a separate basket for spinning and rinsing. The compacts require less space, they are portable and roll around easily, and require no special installation.
Residential and Industrial Laundry Appliance Service for a Number of Problems Including:
Machine doesn't fill (The problem may be dirty water-sediment screens, defective water temperature switch, or defective water-mixing valve solenoids).
Water will not shut off (the problem could be dirt inside the mixing valve, defective timer, short circuit, or a bad water-level control switch).
Machine doesn't run at all.
Machine will not agitate (a faulty water-level control switch or agitator solenoid maybe the problem).
Machine doesn't drain (The problem may be "suds lock", a damaged water pump impeller, or a water pump belt).
Timer or cycle control will not advance.
Clothes too wet after spin.
Lint filter will not operate.
Water leaks from machine.
Wash or rinse water will not pump out.
Machine will not spin-dry.
Excessive vibration and /or noise.v
Moisture sensor failure.
Control panel failure.
Washing Machine Installation, Maintenance and Repair Service in Los Angeles Area
See What People Say About Our Washing Machine Service in Los Angeles
5 out of 5 stars
Great experience. I found IFix on Angie's, albeit the company listing is for their Van Nuys location. They have another location in Beverly Hills, closer to my home. I spoke with Olga, the scheduler, and then Anna, the GM. It was difficult to explain the DW door situation. A plastic part that dampened the opening of the door had become dislodged, causing the door to fly open if not careful. Anna spent a lot of time on the phone trying to locate the actual part, e-mailing diagrams of the unit etc.

I also described that my washer was making a very loud noise in spin cycle.
Reviewer: Allan B.