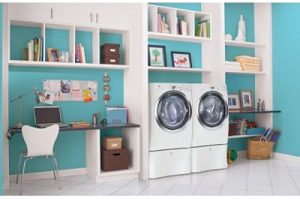 Do you live in Los Angeles Area? Are you in need for Whirpool appliance repair service? If so, then you've come to the right place! We provide quality kitchen appliance repairs and maintenance and fix washing machines 7 days a week. Our affordable prices and fully guaranteed services are sure to bring a smile to your face and apply to our Whirlpool washer repair service. Call us today at 818 960-9664 to learn more!
Same Day Whirlpool Washing Machine Repairs in Los Angeles Area
One of Whirlpool's top quality products is the Whirlpool washers. Whirlpool washers are designed using the latest technology to meet the requirements of the users. They offer great features and have been known to always stand out. Using a Whirlpool washer is not at all expensive; it has many energy saving features.
With all its features, Whirlpool washers can also break down at certain point of time. However, before you think of buying a brand new replacement, why not consider having it repaired? Regardless of the malfunction developed, calling iFix Appliances for your Whirlpool washing machine repair needs guarantees a factory-trained technician will effectively deliver an on-time repair service, customized to your specific needs. Whether it is an old Whirlpool washer or the newest models, our Whirlpool technicians will quickly determine the problem and explain all the available options to you before they carry out the repair, and get your washer back in operation as quickly as possible.
Local Whirlpool Washer Installation, Maintenance and Repair Service by iFix Appliances
Our technicians keep up to date with all technological changes that come with newer equipment. At iFix Appliances, we treat our customers with a high level of sincerity and integrity, whilst performing excellent Whirlpool washing machine service at an affordable cost. Looking for an appliance repair company in Los Angeles Area? Call us today to find out more about our installation, maintenance, and repair services or book an appointment today!
See What People Say About Los Angeles Washing Machine Service
5 out of 5 stars
Courteous reception during initial call. Prompt service. Paul was extremely knowledgeable and courteous. Paul has successfully fixed my Sub-Zero refrigerator, washer and dryer stacked units, and my stove. Highly recommended! I have lived in a home in Wes Hollywood for 26 years and am so happy I discovered iFix Appliances.
Reviewer: Vincent M