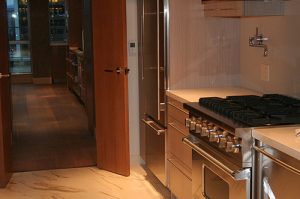 If you're using a Sub-Zero refrigerator, you know for a fact that it is one of the best products on the market. Sub-Zero has always been one of those brands that have stood for time-tested quality and performance. However, even good products have bad days and your Sub-Zero refrigerator will probably need a few repairs in the long run. Luckily, you won't have to worry about that, as iFix Appliances is there to offer quick and efficient Sub-Zero repair service in Los Angeles area.
Our appliance repair technicians are trained and experienced in Sub-Zero repairs, so when it comes to knowledge and dependability, we cannot be rivaled. No matter what kind of Sub-Zero refrigerator repair you need, iFix Appliances' servicemen are always there to help you.
Same Day Sub-Zero Repair Los Angeles Service by Pros
iFix Appliances repair technicians are some of the most well-trained and skilled in the business, especially when it comes to same day Sub-Zero appliance repair. They are specially trained on dealing with a wide range of appliance repairs with regard to the Sub-Zero brand. They are also regularly updated with the latest information and knowledge needed to troubleshoot Sub-Zero appliances. Our technicians make it a point to keep abreast of the latest developments in appliance repairs, especially within the context of Sub-Zero's products and appliances.
We Are Los Angeles Sub-Zero Repair and Maintenance Service Company
If that isn't enough, our technicians are also trained to use the right equipment and analysis methods in identifying issues with Sub-Zero refrigerators and other appliances. As a result, they are able to find permanent and quick solutions in fixing your Sub-Zero appliance problems.
So, if you encounter a problem with your Sub-Zero appliance, just give us a call and we'll send over our technicians to diagnose and carry out the necessary appliance repairs. We even provide an 'Emergency Appliance Repair' service, so do not hesitate to contact us at any time. iFix's Appliances" services are available throughout the day and our technicians will respond immediately.
We Offer Residential and Commercial Sub-Zero Repair Service
When using our service for repairing your residential or commercial Sub-Zero appliance, you are eligible for our 3 month warranty on parts and a 30-day warranty on labor, which means, if you are unsatisfied with our appliance repairs, we'll carry out the process all over again and ensure that your problem is fixed. We cater preventative checkups and emergency repairs as well.
We Cater Sub-Zero Repair Service to Los Angeles and Other Locations
At iFix Appliances, we provide Sub-Zero appliance services across multiple locations, including Sub-Zero repairs in Santa Monica, fixing Sub-Zero in Pasadena, Brentwood, Calabasas, Beverly Hills, Glendale, Malibu and Agoura Hills.
See What Our Customers Say About Our Sub-Zero Service
5 out of 5 stars
Courteous reception during initial call. Prompt service. Paul was extremely knowledgeable and courteous. Paul has successfully fixed my Sub-Zero refrigerator, washer and dryer stacked units, and my stove. Highly recommended! I have lived in a home in Wes Hollywood for 26 years and am so happy I discovered I-Fix Appliances.
Reviewer: Vincent M.