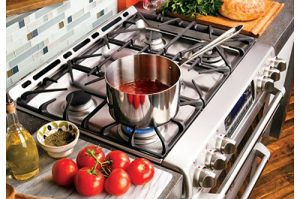 You should not subject your family to the unhealthy habit of living on prepackaged foods. One of the primary signs of family love is putting regular hot meals on the table. A malfunctioning stove could make your life miserable this way. If you do not have a stove top, you have to make do with other appliances that deliver at best satisfactory results. We at iFix Appliances are stove repair Los Angeles experts when it comes to repairing stoves of any manufacture, including Thermador stove repair service, Frigidaire stove repair, and any other stove top repair services. Call us to find out what went wrong and you can get cooking again!
Same Day Stove Repair Service in Los Angeles by iFix Appliances' Experts
Our technicians are trained and experienced in all leading stove brands like Miele and Dacor. We promptly dispatch company owned service vehicles. These vehicles are stocked with a number of common malfunctioning replacement parts. We are proud to have an 80 percent call completion rate. It means most of our customers get their appliances repaired within the first visit. We utilize manufacturer approved repair parts. Only OEM makes are used.
Our Los Angeles Stove Repair Professionals Fix Any Stove Related Issue
Non-heating of the electric stove: The problem can be with a single burner or with all burners. In case the issue persists with one particular burner, it is important to examine its connection and its heating coil. You should turn off the stove and let it cool before touching the coil. Verify it for damage. If the coil remains undamaged, swap coils with another functioning burner and test both the burners. The method will assist to identify whether the problem is with the connection or with the coil. In case the issue concerns all the burners, it could be a bigger electrical issue. Call us immediately.
Non-adjustment of heat: There can be instances when the stove loses its ability to regulate heat levels it generates. It is either totally on or totally off, independent of current setting. The problem stems from infinite switch linked to the dial regulating power levels. It must be replaced.
Non-lighting of gas stove: The non-lighting of the flame is a frequent complaint among owners of gas stoves. You should smell gas if there is an absence of flame. If the smell is not found, the issue is with the gas flow.
For all your stove repairing needs, call iFix Appliances today!
Residential and Commercial Stove Repair Company In Los Angeles Area
As an owner of a successful restaurant, you know that you must prepare huge quantity of food every day. It means that your commercial range, commercial stove, commercial oven and commercial microwave must be in excellent condition to cope with daily challenges. Such equipment is made to manage huge volumes and operate at very fast speeds. The equipment was designed to be efficient, so that things are prepared quickly. It is very important that your commercial equipment consumes the correct amount of energy for their proper operation. Our technicians are conversant with the necessary energy requirements of such equipment.
Best Stove Repair Technicians in Los Angeles and Its Adjoining Areas
We provide comprehensive stove repair service in Los Angeles and its adjoining areas: Malibu, Beverly Hills, Santa Monica, Brentwood, Agoura Hills, Glendale, Pasadena, Calabasas.
See What People Say About Our Stove Service in Los Angeles
5 out of 5 stars
OK, this is going to be an unusual review because they did not come out to fix my stove but….they didn't need to and they were honest about my issue. This speaks volumes to me about the honesty and integrity of this company.
My igniter on the stove would not stop clicking. I went online and cleaned the igniters as they said but it still wouldn't stop. Someone else suggested that there was moisture in there that was causing the problem.
When I called IFix, a very nice woman said to me, yes, it is moisture. Could take 2 weeks for it to air out but it would and if it didn't in 2 weeks to call her back. It had been almost a week of this, but by the end of that day, the clicking stopped and all is well now.
If anything goes amiss in my house for appliances I will call them first and so should you!!!
Reviewer: Shakeh H.