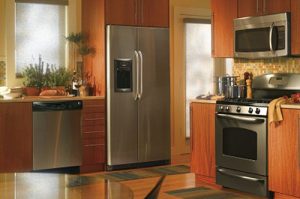 A refrigerator is one appliance that you use 24 hours a day, 365 days a year. There is always one food or the other safely tucked away in the cold zone, sitting comfortably for future consumption. Therefore, it is natural that your normal flow of life gets disrupted when your refrigerator fails in its task. However, do not fret! iFix Appliances is here to take care of all your refrigerator related troubles. We are just a call away. Yes, we are a refrigerator repair Los Angeles experts and we service refrigerators of multiple manufacturers. At iFix Appliances, we do Miele refrigerator servicing, Sub-Zero fridge repair, fixing Maytag refrigerators, and repair all other brands as well!
Refrigerator Repair Expertise Across All LA Locations
Our servicemen have many years of experience fixing and maintaining refrigerators from major brands in multiple locations of Los Angeles Area. This empowers us to offer a wide range of local services including:
We Repair All Kinds of Refrigerators
Multiple types of refrigerators are available in the market.
Top freezer refrigerators: These are most common and have less features compared to other models. Their design makes some items kept on the top and bottom shelf hard to reach.
Side-by-Side Refrigerators: The freezer and fridge are positioned adjacent to each other. It puts both kinds of food within reach. Adjustable shelves are standard and bigger plates can be accommodated.
Bottom freezer refrigerators: The design makes easier to reach sans bending. Frozen items, however, could be less accessible compared to top freezer models.
Compact refrigerators: This kind is designed for smaller spaces like home offices and dorm rooms. They offer less capacity compared to standard units.
Freezerless: These provide an entire refrigeration compartment for those individuals having full-sized freezers.
Built-in or counter depth: These blend effortlessly with their cabinet. These are much shallower compared to other models.
At iFix Appliances, We Can Handle Any Refrigeration Related Issue
Replacement of seals, replacement bulbs, defrost heaters, door switches, compressors, evaporator fans, solenoids, drawers, bins, shelving, thermostats, water filters, ice maker components, condensers, evaporators, and valves.
Refrigerator doesn't run at all (Among possible causes are defective cord, compressor overload open, relay coil open, broken wire in cabinet, open thermostat, open running winding in compressor motor.
Fridge does not cool products properly (The reasons varies from condenser air blocked to improper control setting to compressor not pumping).
Water on floor under refrigerator or freezer (This happens when drain tube is out of place or drain pan is not in position).
Excessive power consumption (Insufficient air flow around unit, blocked condenser coil, temperature controls that are set excessively high, excessive usage, or partially frosted evaporator might be the reason).
Odors in compartment.
Condensation on cabinet.
We Are Your Commercial Freezer, Ice-maker and Beverage Cooler Repair Company
All technicians employed by us are armed with the proper certification for safe refrigerant handling and can quickly find the reason of the malfunction. When you require commercial beverage cooler, commercial freezer repair, and commercial ice-maker service, we are a company which will not only save your money, but also offer you super-fast emergency appliance service.
We know the value of time when a commercial freezer ceases to work. Food will spoil and you can face a potentially crippling financial loss. We will prioritize you from the moment you call us and get your problem fixed as quickly as possible. Best of all? Our prices are too good to pass.
Refrigerator Repairs Will Be Few and Far Between if You Follow These Tips:
Cracks or splits in the seals of your fridge can affect cooling power and increase your utility bills. They can also become a breeding ground for bacteria and dirt, posing a health risk. It is therefore important that you clean the seals regularly or on a weekly basis.
To keep your fridge's compressor running properly and avoid appliance repair, keep it clean. Turn off your refrigerator and use your vacuum cleaner to clean the dust off the compressor, coils and air intakes.
To ensure healthy airflow and uniform cooling, take care not to over pack your freezer or fridge. Also defrost your freezer at least once a year. Both these steps prevent your compressor from working hard and reduce the likelihood of appliance repair.
We Are Your Local Refrigeration Repair Technicians in Los Angeles, CA
See What Our Customers Say About Our Refrigerator Repair Service
5 out of 5 stars
I called this morning & needed my refrigerator repaired as soon as possible. They made an appointment as early as 1pm. Cost me $315.11 but my fridge needed the part bad. Paul was so nice & got the job done in just 1 hour! Defiantly recommend them + they gave me a 6 month warranty & 20% off my next visit 🙂
Reviewer: Michelle Gallan
5 out of 5 stars
The guys fixed my Miele refrigerator on the same day I called!Fast response and high quality service. Will recommend you to my friends. Thanks!
Reviewer: Maria Wynn