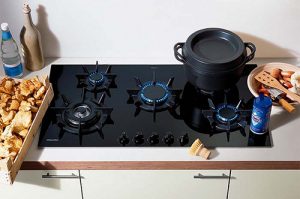 People buy Miele Appliances because they are of high quality and they provide years' worth of trouble-free performance. However, they can still run into problems now and then, which will probably need immediate attention. Fortunately, iFix Appliances specializes in Miele repair service in Los Angeles area with regard to such Miele appliances as dishwashers, dryers, refrigerators, and others. Our appliance repair technicians are highly experienced with all products from the Miele brand. They can handle anything from Miele refrigerator repair to Miele clother dryer maintenance to Miele dishwasher repairs. So, if you need any kind of Miele repair or maintenance service in Los Angeles, just give us a call and we'll send over our technicians!
Same Day Miele Repair Los Angeles Service by iFix Appliances Experts
With so many home appliances brands flooding the market today, it can be challenging to choose the best home appliances that will offer the needed peace of mind. The best solution, however, is for you to acquaint yourself with some of the top brands around, like Miele. Miele is a German-based global company that manufactures top-quality commercial and domestic appliances including fitted kitchens. Its appliances are high-tech solutions that are designed to help today's consumers, by saving them time and providing them with utmost comfort. Many of its product lines, such as the Miele washing machines, Miele cooktops, and Miele dryer have received several awards over the years. This fact, plus the appliances' reliability and high quality assure you of value for your money. In addition, Miele appliances are randomly checked to ensure they meet the market's quality standard. This assures you of getting one of the best appliances for your home.
Our Miele appliance services technicians are trained by Miele, which means you will never have to worry about trusting us. We can provide the same level of excellence that you would expect from an authorized Miele serviceman. Just like Miele servicemen, our iFix technicians are also constantly kept up-to-date on the latest technologies used in Miele appliances.
We Are Your Local Miele Repair and Maintenance Service Company
As soon as your complaint is registered with us, our technicians will pay you a visit to inspect the problem and carry out the necessary appliance repairs. Since they're highly trained in all Miele related appliance repairs, they will most likely solve your issue within the day, unless the appliance repairs are more complicated in nature.
Our Miele repair guys will also use the most advanced and sophisticated diagnostic equipment to analyze the issue with your respective Miele appliance. It will help them narrow down possible causes and address the issue sooner. The use of such high-end equipment also helps them carry out an appliance repair without the need for dismantling your Miele appliance.
We Offer Same Day Miele Dryer and Maintenance Service
Just like all Miele appliances, the Miele dryer is robust and well-built to last for years. Regardless of all its unique features, it is certain to develop a fault at some point in time. When this happens, the best is to hire an approved and authorized Miele dryer repair agent. At iFix Appliances, we understand how much of an inconvenience your Miele dryer breaking down can be. This is why our Miele dryer repair service is fast, cost-effective and dependable. We have experts that are specially trained on handling Miele dryer repairs and maintenance, and they also have access to special diagnostic tools. All of our repairs are of top quality. At iFix Appliances, our repair service for Miele dryers are top notch and will give you the rest of mind needed in any appliance. Call us today to find out more about our Miele clothes dryer service or book an appointment today!
We Offer Residential and Commercial Miele Repairs in Los Angeles and Other Locations
Apart from top quality technicians and appliance repairs, iFix Appliances also provides a 30-day warranty on labor and 3 months warranty parts. If you ever find yourself unsatisfied, just give us a call and we'll make it a point to conduct a second diagnosis and appliance repair.
If that's not enough, we even provide an 'Emergency Appliance Repair' service, so you are free to call us anytime and we'll take care of things immediately.
Our appliance services are available across multiple locations. We provide appliance repairs in Brentwood, service appliances in Pasadena, cater repairs to Calabasas, fix appliances in Agoura Hills, Los Angeles, Beverly Hills, Glendale, and Malibu.
See What Our Customers Say About Our Miele Service
5 out of 5 stars
The guys fixed my Miele refrigerator on the same day I called!Fast response and high quality service. Will recommend you to my friends. Thanks!
Reviewer: Maria V.