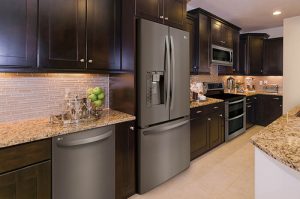 When you need LG repair service in Los Angeles, you will not be kept waiting. Our response to your call will be extremely fast. We offer high quality appliance repair services within the comfort of your own home. What is more, we do the best quality service at extremely reasonable rates.
iFix Appliances is happy to announce that it is a fully licensed and trained repair service provider of LG appliances. LG products are very popular in the Los Angeles area due to the brand's unique resource frugal construction and the unique design of its appliances. We provide service and repairs for all relevant LG products, including LG dishwashers, LG clothes dryers, LG washing machines, LG refrigerators, and visit your house to repair them on-site.
Same Day LG Repair Los Angeles Service by iFix Appliances Experts
Our technicians are highly skilled and they carry out some of the best work with regard to LG appliance service. We service and repair absolutely all LG refrigerator types: French 3-Door, French 4-Door, Side-by-Side, Bottom Freezer, Top Mount Freezer. The same goes for other LG kitchen appliances – we fix them all. We repair LG cooktops, service LG oven, install LG ranges, offer LG clothes dryer maintenance service. We also repair LG washing machines and microwaves.
You are dependent on your kitchen and laundry appliances for everyday living. Therefore, it is natural that when they stop working, it is not just a minor inconvenience. The malfunctioning machine disrupts your entire schedule for the day, and if not repaired within 24 hours, multiple days or even a week. We understand your pain and dispatch our repair team in the quickest time possible.
We Offer Maintenance and Repair Service for All LG Home Appliances
LG began as a company manufacturing electronics products in 1958. They soon expanded their product range with a comprehensive line of laundry and kitchen appliances. The company's excellent mix of knowledge concerning the electronics industry and its innovative ideas portraying better and more efficient appliances for the homes quickly catapulted into one of the biggest sellers of home appliances in the United States. The company has consistently ranked high in the JD Power rankings with multiple products taking top honors. LG appliances were judged on the basis of reliability and performance. It is seen that the company is one of those where customers buy products of the same brand. Other factors considered were features, ease of use, styling, appearance and price.
LG is also a well-established innovator in the home appliance industry. The company creates products across the kitchen and laundry categories that help give time back to consumers, allowing them to spend more time with their families and less time doing chores. Its products are centered around distinctive styling that has become a hallmark of the brand and go with professional-grade features providing elegant look that fit well into any household. LG is famous for up to 10-year warranties on core technologies and parts such as the linear compressor on their refrigerators and Direct Drive Motor on the laundry suite. Through innovation that enhances consumers' lives, LG appliances offer the latest technologies including Door-in-Door [TM] technology, EasyClean[TM], and many others.
LG products typically fit into a modern or contemporary aesthetic. LG's appliances reflect the sleek lines and premium design that homeowners demand to create consistency within the design of the kitchen itself. The appliances are intended to seamlessly integrate into the current design of the home.
In past, LG earned the Good Housekeeping Seal for its refrigerator line-up including 23 models, the most of any appliance manufacturer. LG has also been named the 2013 ENERGY STAR[R] Partner of the Year by the U.S. Environmental Protection Agency.
We Are Your Local LG Dishwasher Repair Company in Los Angeles Area
LG dishwashers feature large capacity and are famous for being one of the quitest on the market. As with all LG home appliances, the new company's dishwasher line is also energy-efficient and low in water consumption. Featuring a sleek, sophisticated design that has become the hallmark of all of LG's products, QuadWash dishwashers are available in semi- and fully-integrated exterior models in a variety of finishes to suit any kitchen style and function, as well as match other LG appliances. The semi-integrated models feature digital display controls on the outside door, while the fully-integrated versions have the digital display on the outside door and controls hidden on top of the door for a more 'polished' look.
The products feature a soil level sensor which determines the number of rinses needed, and the zone cleaning option allows for washing in the upper or lower decks only to conserve water. Able to hold up to 16 place settings, dishwashers have 10 in. top rack and 14 in. lower rack or 12 in. upper and lower racks. Semi-integrated models feature digital display controls on outside door, while fully integrated versions have digital display on outside door and controls hidden on top of door. All products feature soil level sensor; strong, normal, and soft water jets; and zone cleaning option that allows for washing in upper or lower decks only.
We provide a wide range of LG dishwasher repair service in Los Angeles Area to city residents and in the adjoining areas of the metropolis. Excellent service is made possible by our excellently trained and professional technicians who are the best in the industry. Call us now at 818 960-9664!
We Offer KitchenAid Repair Service in Los Angeles and Its Adjoining Cities
Our repair services for LG appliances cater to all residents and commercial establishments of Los Angeles area. We fix refrigerators in Beverly Hills and repair washing machines in Brentwood. We can repair an appliance in Pasadena and service appliances in Calabasas. Our repair services also cater to Agoura Hills, Malibu, Santa Monica, Glendale, and other cities of Los Angeles Area.
See What Our Customers Say About Our KitchenAid Service in Los Angeles
5 out of 5 stars
My LG combo washer and dryer stopped draining- so I called LG for some recommendations of authorized service providers. The ones they gave me had terrible Yelp reviews- so I called iFix Appliances – solely based on their Yelp reviews.
I called around noon on a Monday and Paul was there by 3:40 (well within the time frame of between 3-6!!) I was so happy they could come that same day- and that Paul was able to replace my drain pump right away. Very professional- very good service all the way around- I would not hesitate to call them again should the need arise.
Reviewer: Terri G.