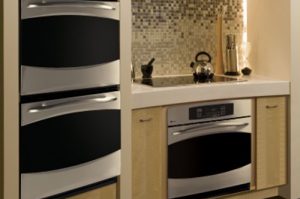 iFix Appliances is your friendly and fast appliance repair local company. We are here when you need to repair any GE appliance including your GE refrigerator and GE washing machine. GE is the biggest appliance brand in the United States and we repair all models of the appliances manufactured by the company. Even if the brand needs minimal servicing, you sometimes need your appliances to be repaired. Call us at 818 960-9664 when you need to repair a broken refrigerator or fix cooktop, and we will arrive swiftly and offer a dependable service making everything go right the first time! Our service area includes Los Angeles and its adjoining areas. Our expertise, response time and competitive pricing make us boldly different.
Same Day GE Repair Los Angeles Service by iFix Appliances
We offer GE appliance repairs for all models and types, including GE Profile refrigerator repair, GE Monogram refrigerator repair, and so on. We repair gas and electric appliances and cater our service to Los Angeles residents and business establishments. Call us if your General Electric fridge is making a noise, leaking or would not cool properly or there are a malfunctioning ice-maker or freezer. We do have a substantial inventory of refrigerator spare parts and will get almost any job done on the first visit itself.
GE Residential and Commercial Laundry Appliance Repairs by Los Angeles Experts
To us, it does not matter whether you are using a top loader or a front loader, when it comes to washing machines. We will repair it in a jiffy. The same goes to GE profile washer maintenance: We cater services for all GE washing machines including Profile series. We can do an excellent repair on electric dryer and gas dryer too. Call us today if you are in need for GE repair or maintenance service in Los Angeles area!
We Are Your Local GE Repair Service Company
See What Our Customers Say About Our Appliance Repair Service
5 out of 5 stars
I've called yesterday, today Mike came out to fix my water/filter system on my fridge.
The company came recommended by my neighbor, and I am ever so grateful for the referral.
They stay in touch when en-route, show up during the given time schedule , work efficiently and best of all, my problem is fixed!
There is a Senior 20% coupon online, another plus!
Thus far, I can only recommend Ifix Appliances most highly.
Mike is my guy for all my appliance repair needs.
Reviewer: KB W.