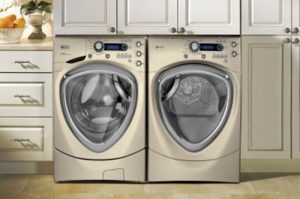 Washing clothes can be a cumbersome task by itself, but then, things can get worse if you can't dry the washed clothes properly. Thankfully, we don't live in those times anymore and with the existence of dryers, things are so much easier. However, dryers can't always be helpful because, like any other electrical appliance, they too undergo problems such as parts damage or malfunction. Lucky for you, that won't be a problem for too long, as iFix Appliances' technicians are available round the clock to help you with whatever dryer repair in Los Angeles you need: fixing Maytag dryer repair, Kenmore dryer maintenance, or repairing a Miele dryer.
So if you ever need us, just give us a call and our appliance repair technicians will be at your doorstep. We also provide an 'Emergency Dryer Repair Los Angeles' program, which means you won't have to wait too long to get your dryer repair done.
Dryer Installation, Maintenance, and Repair Service in Los Angeles Area
Our dryer repair technicians are able to fix nearly any dryer in the world. No issue is big for us. Here is a list of common dryers problems for you to identify, so you'll know just when to call our dryer repair company.
Dryer refusing to run: Normally, it occurs if the dryer is unplugged or if the circuit breaker has tripped. It could also be caused due a thermostat malfunction, bad start switch or a terminal block.
Not enough heat is produced (no heat dryer): This can be due to a number of reasons such as thermostat malfunction, faulty fuse, faulty temperature switch, faulty timer or faulty heating coils.
Dryer becomes exceedingly hot: It is a very dangerous situation that needs immediate attention. It can be caused due to faulty heating coils or a faulty thermostat. Even clogged vents can be a cause. As a result, you might suffer from fires or carbon monoxide poisoning. Please get in touch with our iFix technicians immediately if it happens. They will instantly attend to you, as it is part of our 'Emergency Appliance Repair' program.
We Specialize in All Dryer Brands & Models Give Us A Call (800) 350-0224
Our dryer repair technicians have the right expertise, knowledge, and experience to handle any gas or electric dryer issue (including vented, condenser, and heat pump condenser dryers problems.) We fix dryers of all brands that are on the market and always provide guarantees. All our repairs carry a 30-day labor warrantee and a 3-month part guarantee.
Dryer Repair Experts in Los Angeles Area (818) 960-9664
At iFix Appliances, we provide same day dryer installation, maintenance service, and repairs in Los Angeles and surrounding cities. We cater clothes dryer repairs in Beverly Hills, provide dryer repair service in Santa Monica, offer dryer repairs and maintenance in Pasadena, fix dryers in Agoura Hills, repair dryers in Malibu and other cities of Greater Los Angeles area! Here is the example of the issue our clients face all over Los Angeles area. When a clothes dryer breaks down, one of the most common problems is a broken drive belt. The symptoms are a loud banging noise, followed by a drum that stops turning. For such a big problem, the solution is pretty simple. The hardest part is gaining access to the drum inside the dryer cabinet. While all brands are different, the process is nearly the same. If you don't run into any trouble and have the replacement part on hand, the job should take about two hours.
If that seems like a lot of work, you can give iFix Appliances experts a call so they can fix it for you!
See What People Say About Our Dishwasher Service in Los Angeles
5 out of 5 stars
My sister Catherine lives in Marina del Rey. Her gas dryer was no longer heating up. Rather than pay for a new dryer (a large expense and not built as well as an older model) she googled "why a gas dryer no longer provides heat". Lots of companies were listed. The yelp reviews for iFix Appliances were extraordinary. She spoke with Anna and Maria (lovely ladies) and was able to schedule an appointment for the next day. Paul told her the flame sensor needed to be replaced. Paul, a very nice young man, was in and out in no time. Thank you Yelp for being so helpful. She will be very happy to call this company again and she will recommend this company to neighbors and friends!
Reviewer: Deirdra B.