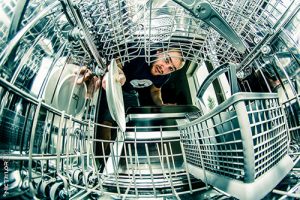 Dishwasher is an important feature to any kitchen and an item most of us can't live without. However, you don't have to worry if it goes down. iFix Appliances is known to offer the best and quick dishwasher repair service in Los Angeles area! Whether you have a significant leak or your dishes are not coming out clean as they should, you can rest assured knowing that we have the expertise to have your dishwasher back up and running in timely manner and on budget.
Same-Day Dishwasher Repair Service Company in Los Angeles Area
Our technicians are exceptionally well-mannered and know what to check when examining your dishwasher. They will troubleshoot your dishwasher to help identify the fault and will do our best to fix your dishwasher related issue at our first visit. Contact us at (818) 960-9664 or book online and our dishwasher repair expert will visit you without delay!
Dishwasher Installation, Maintenance & Repair Service In Los Angeles by iFix Appliances
The dishwasher is an appliance that defines the concept of a modern home and lifestyle. Without it, we would all be still washing dirty dishes with our own hands. Why would anyone want to do that, right? Well, it could come to that at some point in time and the reasons could be many; from poor maintenance to general malfunction. Dishwashers are just like any other home appliance and they require an appliance service or an appliance repair, when things get out of hand.
Fortunately, you won't have to worry about any of your dishwasher repair service in Los Angeles anymore, as iFix Appliances is there to solve all your problems. iFix Appliances can take care of all your requirements with regard to dishwasher repair Los Angeles service including fixing Frigidaire dishwasher, servicing LG dishwasher, or Bosch dishwasher repair service.
Our Appliance Repair Experts Can Fix Nearly Any Known Dishwasher Issues Listed Below
Dishwasher refusing to start: It is one of the most common dishwasher complaints and to make things worse, there are a ton of reasons why it could happen. Some of the usual causes include interrupted power supply, damaged fuse, wiring issues, improper installation and so on.
Dishwasher's lights flash or display error code: Flashing lights or an error code display usually indicates that there is something wrong with the dishwasher. This could generally mean that there is a malfunctioning part or module, which needs to be checked out immediately. Only an experienced iFix technician can carry out this particular type of appliance repair, as the mechanisms in each dishwasher brand varies.
Noisy dishwasher: It can occur for a variety of reasons ranging from faulty pumps to faulty motors and will, most likely, require a replacement.
We Provide Quick, Efficient, and Affordable Commercial Dishwasher Repair Service
It is one machine which works very hard and at all days and times as your restaurant or hotel requires an unending flow of squeaky clean cutlery. Industrial dishwashers are designed to wash as quickly as possible and simultaneously sterilizing them with extreme heat. Our technicians have an excellent understanding of cleaning requirements followed by restaurants and hotels. These establishments also must follow a few particular health codes mandated by the government authority.
Call us now! We are armed with the most modern equipment and products available. At iFix Appliances, we pride ourselves at giving the best service to our commercial customers. When you hire us, be assured your operation will run smoothly. We are just a call or a click away!
Same Day Dishwasher Repairs in Los Angeles Area and Adjoining Cities
By using any iFix Appliances service for dishwashers, you get several benefits such as a preventive check-up, where our technicians will go through your dishwasher thoroughly, in order to determine underlying issues that might cause future damage. You also gain from our 3 months spare parts and 30-days labor warranty. If the problem comes back, even with the spare part replacement, iFix Appliances will send their dishwasher repair technician to carry out a proper repeat check-up.
We also provide dishwasher repairs in Pasadena, dishwasher installation and maintenance in Agoura Hills, dishwasher service in Santa Monica, dishwasher repairs in Malibu, and any dishwasher service in other locations of Los Angeles Area such as Calabasas, Beverly Hills, Brentwood, and Glendale.
See What People Say About Our Dishwasher Service in Los Angeles
5 out of 5 stars
Great service! After a quick Yelp search, I found iFix Appliances. The woman on the phone was really nice and made an appointment for the next available day. The technician, Paul was really punctual and worked really quickly to find the problem with my dishwasher. He found the problem, told me what it was – he needed to order a part. Paul came back a few days later with a new control panel for my dishwasher and had it running in less than 15 minutes. iFix Appliances is fast, reliable, and honest. I would use them again.
Reviewer: Piotr Kovaloff