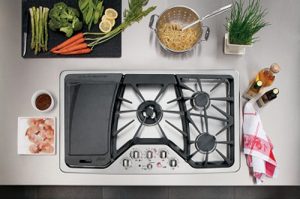 If it weren't for cooktops, we would all still be cooking over a slow fire like our ancestors used to. Fortunately, we don't have to do it anymore, because cooktops make our cooking so much easier. However, like most appliances, cooktops also end up having frequent problems, especially if they aren't serviced or handled properly. Fortunately, you don't have to worry about cooktop repair Los Angeles service anymore as iFix's service caters to cooktops as well.
We Are Professional Local Cooktop Repair Experts in Los Angeles
Your cooktop is a key player in meal planning and getting your food prepared. However, it can be provoking and inconvenient when it stops working. iFix Appliances is a qualified and trusted cooktop repair service provider, skilled in fixing cooktop problems quickly and efficiently. At iFix Appliances, our certified technicians will examine your cooktop in a knowledgeable, detailed, and timely manner with the view of repairing your cooktop at our first visit.
Our cooktop repair technicians are current on the newest cooktop repair technology by regularly completing training sessions all through the year. You can feel safe knowing that each of our servicemen undergo a comprehensive background check and work under the supervision of an expert management team. At iFix Appliances, we always stand by our cooktop maintenance and repairs 100%. Give us a call now to book an appointment and our technician will offer a full diagnostic at $49 diagnostic fee that goes toward the total repair of the appliance if the customer wants their appliance fixed.
Our Technicians Can Quickly and Efficiently Fix Any Cooktop Related Issues
As a cooktop user, it's always good to have the ability to identify common cooktop issues, so that you'll know if and when to call in iFix Appliances cooktop technicians. So, here is a list of the most common cooktop complaints and their causes:
Ignition switch malfunction: It is basically a problem with the ignition switch or the wiring to the ignition switch. Ideally, the switch or the wiring would require replacement.
Burner won't burn even with gas flow: This can occur for a various number of reasons. Either the valve shaft switch is malfunctioning or the spark module (wires) itself is damaged.
Burner malfunction: It could be caused due to a clogging in the burner or the burner valve could be damaged. In this case, the clogging will be eliminated or the burner will be replaced with an authentic spare.
We Provide Cooktop Repairs to Every Appliance Brand
This includes, but is not limited to:
Benefits Our Cooktop Repair Service Company Provides
Whatever cooktop repair is required, iFix has a skilled team of cooktop repair servicemen to help you out. They have the right equipment and knowledge to deal with multiple varieties of cooktop appliance services. Plus, you also benefit from a variety of other add-on services, such as our "Preventive Measures" service, where iFix appliance repair technicians will thoroughly analyze your cooktop to weed out underlying issues and problems, in order to prevent future malfunctions.
We also provide a warranty on our labor and spare parts. The warranty on all replacement spare parts is valid up to 90 days and if you are not satisfied, you can call us again. Our technicians will conduct a thorough check up again and find an appropriate solution.
We Are Your Local Cooktop Repair Technicians
Our services are spread out across multiple locations. We provide cooktop repairs in Los Angeles and cater cooktop service to Pasadena, fix cooktops in Santa Monica, repair cooktops in Brentwood, Beverly Hills, Calabasas, Glendale, Malibu and Agoura Hills.
See What Our Customers Say About Our Appliance Repair Service
5 out of 5 stars
I had ifix come out couple times and they have always been helpful and fixed issues with no problem. Paul has been the technician that came out couple times and he is great! I would definitely contact them again for my appliance needs. Customer service is superb and the technicians are knowledgeable.
Reviewer: Jane Kite