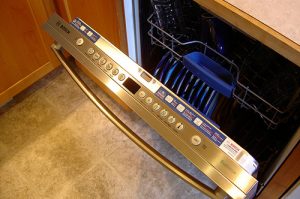 At iFix Appliances, we provide our customers with the best Bosch repair service in Los Angeles. We are a fully approved Bosch appliance repair company and have serviced thousands of appliances until now. Call us for a prompt service, if you are resident in Los Angeles or its adjoining areas!
Bosch has always been in the forefront of quality appliance manufacturing and is also noted by both consumers and industry alike for manufacturing energy efficient models. In 2009, the company introduced a particular technology within their stoves, which made sensors capable of determining the perfect temperature required on a stove. It was made possible by measuring a pan's surface temperature. The pan in this case refers to the pan being used.
Same Day Bosch Repair Los Angeles Service
Our appliance repair expert technicians can solve any problem associated with your Bosch appliance including fixing Bosch dishwasher, Bosch washing machine repair, or Bosch dryer maintenance. We fix Bosch dishwashers, built-in wall ovens, cooktops, gas and electric ranges, microwaves and warming drawers, refrigerators, washers and dryers.
Bosch Repair Service in Los Angeles by iFix Appliances Experts
We are a licensed and insured appliance repair and maintenance business in Los Angeles, California. We are a local company and we fully guarantee the work we do. When you hire our fully certified technicians, you get the best because our workmanship meets or exceeds factory standards, our technicians regularly receive continuous up-gradation training, factory warranties applicable on individual parts are honored by us. Moreover, we fix Bosch appliances in multiple locations of Los Angeles area including Beverly Hills, Brentwood, Santa Monica, Agoura Hills, Glendale, Pasadena, and Calabasas.
We Fix Bosch Residential and Commercial Laundry Appliances in Los Angeles
The Bosch washers are famous for using less water and energy while still delivering exceptionally clean clothes. At iFix Appliances, we cater Bosch washer repair, installation, and maintenance service for all model types including:
24″ Compact Washer 800 Series This Bosch product is best known for offering quality, water protection and design. Bosch claims 24″ Compact Washer 800 Series can wash 5 men's dress shirts in just 15 minutes.
24″ Compact Washer 500 Series. Main features of 24″ Compact Washer 500 Series are AquaShield® that provides protection against water damage, SpeedPerfect™ providing up to 40% faster washing time and EcoSilence™ Motor that delivers quiet, efficient & long lasting performance. The 500 Series Bosch Washer is ENERGY STAR Qualified
24″ Compact Washer 300 Series. The 300 Series Bosch Washer is ENERGY STAR® Qualified and is equipped with 2.2 cubic foot drum that provides large capacity for compact washers.
We Are Reliable Bosch Appliance Technicians for Microwave Repairs
We cater Bosch microwave troubleshooting and repair service for nearly all model types:
HMB5061 Built-In Microwave Oven 500 Series
HMB5051 Built-In Microwave Oven 500 Series
HMVP052U 30 Over-the-Range Microwave Benchmark™ Series
30 Over-the-Range Convection Microwave 800 Series
30 Over-the-Range Microwave 500 Series
30 Over-the-Range Microwave 300 Series
HMV3022U 30 Over-the-Range Microwave 300 Series
30 Over-the-Range Microwave 300 Series
We Cater the Whole Range of Bosch Dryer Repair Services
You can count on us for the whole range of Bosch dryer repair services. We fix all model types including 300 Series Dryer, 500 Series Dryer, and 800 Series Dryer.
In case you are trying to repair an appliance by yourself, do remember to unplug the device and remove it from any area where it is in contact with water. The rule of thumb associated with an unresponsive machine is that to make sure the cord is intact and is plugged into an energy grid. Once you make sure that this is the case, check whether the breaker is working or not. It must not get tripped. Make sure that the appliance is closed before you press any buttons.
We Are Your Local Bosch Repair Company in Los Angeles Area
See What Our Customers Say About Our Appliance Repair Service
5 out of 5 stars
We had an emergency with our Bosch dishwasher that caused it to leak quarts of dirty water onto our kitchen floor. We called IFIX APPLIANCES and they sent a very competent and polite technician to our house on a Saturday afternoon. The dishwasher was fixed in an hour with parts from the service truck! Efficient kind and fast and great when something breaks on a weekend!
Reviewer: Brandy W.