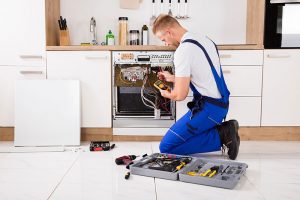 Many people is Los Angeles use Fisher & Paykel appliances in their home. This New Zealand brand is known for its reliable and long-lasting appliances that won't breakdown or develop problems easily. But these appliances also see a significant amount of regular use almost on a daily basis and have to endure a certain amount of wear and tear, which causes some components to fail, and the appliance starts to work erratically.
Sometimes misuse results in problems in the appliance and causes it to dysfunction. In situations such as these, it's important that you call skilled and experienced Fisher Paykel appliance repair in Los Angeles experts like the ones at iFix Appliances. We are one of the leading companies in the field and have been providing very prompt and reliable services to customers across the region for a number of years. If any of your Fisher & Paykel appliances aren't working the way they should or have stopped working altogether, we are the company to call.
Same Day Fisher & Paykel Appliance Repair Service in Los Angeles Area
No matter which way you look at it, if you are looking for skilled Fisher Paykel appliance repair in Los Angeles professionals, you need look no further than iFix Appliances. We are experienced and highly-reputed appliance repair professionals offering same day appliance repair service. Here are some reasons why you should choose us as your Fisher & Paykel appliance service provider:
We are fully licensed and insured company.
We use the right techniques, the latest technology and tools and genuine, high-quality spares in our work and make sure that the Fisher & Paykel appliance repair in Los Angeles we handle is perfect in every way.
In addition to fixing these appliances, we also have the expertise to fix appliances of other brands.
We understand that appliances may sometimes dysfunction of stop functioning without warning and its why we provide reliable and same-day service.
We recognize that appliances of different brands are built differently; our technicians will diagnose problems expertly and handle each repair in the way it is meant to be handled.
We offer upfront cost and competitive appliance repair pricing.
We Handle All Types of Fisher & Paykel Appliances
Our technicians are fully trained and equipped to handle all types of Fisher Paykel appliance repair services such as:
Gas and electric dryer repairs
Residential and commercial washer repair service
Dishwasher appliance repair
Microwave oven service
Fisher & Paykel refrigerator repair service
Repairing Fisher & Paykel range
Home oven repair
Gas and electric cooktop appliance repair
Call the Experts for Fisher & Paykel Appliance Installation, Maintenance and Repair Service
All the work will be carried out with the least amount of disturbance to the workings on your property. We work around your schedule and will handle the Fisher & Paykel appliance repair in Los Angeles job at a time that's convenient to you. We are always happy to answer any questions that our clients may have before we start on the appliance repair work. The technicians ensure the space is left just the way it was once the work is done.
You can contact us with your requirement at (818) 960-9664 or send us your request via this online booking form. Regardless of the time of day or night you need our services, we are on call to help you and provide reliable and professional appliance repairs.
We Are Your Local Fisher & Paykel Appliance Repair Company
See What Our Customers Say About Our Service
5 out of 5 stars
iFix appliances came in time and gave me a very fair price. My washing machine lid wouldn't lock and after spinning the clothes were still wet. Technicians ordered necessary part and came again next week, it didn't take them long to change the part and my machine started working again. I would definitely recommend this service.
Reviewer: Olga S.