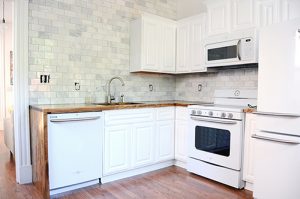 Appliances are an important investment, and naturally, you want to get the most out of them. It is important to use your household appliances in the way they were intended to be used. Timely servicing – as recommended by the manufacturer – is another aspect of keeping your GE fridge, Whirlpool dryer or other home or commercial appliance in good working condition. We provide appliance repair service in Los Angeles for all the major appliance brands, from Dacor oven repairs and Whirlpool washing machine service to Bosch dishwasher maintenance and repairs. Our technicians accurately diagnose the issue and have factory-approved spare parts at hand to carry out timely fixes.
Same Day Home Appliance Repair Los Angeles Service from Experienced Technicians
Our lives are surrounded by various different home appliances that are aimed to simplify our daily tasks and make our lives more enjoyable and pleasant. With all the home appliances that you need in place, you can sustain the demands of your home even if you happen to be the busy working type. These appliances can be used to perform various home routines like slicing, heating, cooking, cooling, mixing, cutting, drying, as well as washing.
The existence of appliances is not restricted to homes alone. They are also available in a wide number of places like business offices, conference rooms, employee desks, etc. and they are very much attached to our daily life. As useful, durable and effective as they may be, it can be demoralizing when one stops working. And now, the appliance you once used to make your life a little easier is now making life a lot harder. This is because they usually stop working most times when you needed them most. At iFix Appliances,we will use our technical expertise and in-depth experience to troubleshoot and then swiftly repair your problem on the same day. Our charges are so reasonable that they will bring a smile on your face.
Commercial Appliance Repair and Maintenance Service in Los Angeles Area
Whether you own a laundromat, a grocery store or a restaurant, your business depends upon the functionality of your commercial appliance. It will be a short time before the malfunctioning commercial freezer, commercial oven or commercial washer will result in lost income and customers. Therefore, it is vital to have quick access to a dependable Los Angeles appliance repair company within your city. When you work with big industry size equipment which needs a quick and lasting fix, iFix Appliances is the company to call. We have rich experience in Frigidaire dishwasher repairs, Maytag dryer service, Thermador cook tops troubleshooting, fixing Bosch dishwashers in entire Los Angeles area.
Our confidence stems from the rich experience we have gained over the years in repairing a wide range of commercial appliances. We have the product knowledge and the expertise to provide Los Angeles residents and commercial establishments with:
Commercial AC/HVAC Repairs
Commercial Kitchen Appliances Repair & Maintenance
Commercial Laundry Repair Service
We Are Your Reliable Local Appliance Repair Provider
If your appliance's breakdown is within the warranty period, then you have nothing to worry about. The manufacturing company will either replace the faulty spare part(s) or offer you free maintenance service. If the fault is not within the warranty period or not covered by any warranty, your best option would be to hire an appliance repair company.
However, with many firms out there claiming to offer appliance repair service in Los Angeles, the majority of homeowners often find it difficult to choose a reliable appliance repair provider. Most of these firms do not have skilled professionals. They overcharge, taking advantage of the homeowner's helpless situation. Hiring an unqualified repair technician will only end up damaging other parts of the appliance or perform faulty repairs that could end up making your appliance to break down more frequently. This is why you need to be careful when hiring an appliance technician.
Furthermore, do not, for any reason attempt to repair your home appliances by yourself. Not only will doing so worsen the situation but will also damage the appliance further and you may even sustain injuries through electric shocks. Therefore, whenever any of your appliances develops a fault, be sure to hire a professional appliance repair company in Los Angeles who can get the necessary fixes done quickly and accurately.
Quick and Efficient Appliance Installation, Repair And Maintenance Service in Los Angeles Area
Paying close attention to how well your home appliances are performing and determining when they need repairs or maintenance is very important. Not only can this help to save you money, fixing the appliance without delay can also prevent the need for a costly appliance replacement. In addition, it can help to ensure that you get the most out of your home appliances.
While some signs that you need appliance repairs may be obvious, others may be not. Sometimes, most appliances will still turn on but not function in the appropriate way. This could cause you serious inconvenience. Therefore, you need to pay attention to signs that your home appliances are not working to their full capacity. For instance, if it is taking twice as long to prepare your favorite meals, then you may need oven repair. Ignoring this problem, even for a few months more could cost you a fortune when you end up buying a new home appliance. As an alternative, you can contact iFix Appliances, your local appliance repair company that will help you fix the issues with your appliance and get them up and running without delay.
Multiple Appliance Repair Discounts for All Appliance Repairs in Los Angeles Area
One of the many significant signs that you need appliance repair can be seen on your energy bills. Whilst you may not have noticed that your dryer is taking a longer time to dry your clothes, you will certainly notice an increase in the costs of your electricity bills should the cycles take longer. Once you notice an increase in your energy bill, it is suggested you check your appliances to see if they are working in top condition. Do not hesitate to contact us immediately for any appliance repair service once you discover the particular home appliance that is faulty. Any further delay could cost you lots of money in the long run. At iFix Appliances, we offer multiple discounts for all repair services as well as 30-day labor and 3-month part guarantees.
Why Hire iFix Appliances for Professional Residential Appliance Repair Service In Los Angeles Area
We provide references. It is a good sign when an appliance repair company is ready to share with you some of their previous clients' feedback. Follow-up by calling some of them and verify that the reviews given are credible. Any company that refuses to provide references is an instant red flag. We have a long list of references that we'll be glad to share with you upon your request.
We are insured. A reliable appliance repair provider must have an insurance coverage to protect its clients from unnecessary charges. If a technician from an uninsured company got injured while performing a repair in your home, you could be held liable for the related expenses. Our expert technicians are fully insured and in case of any injury, you have nothing to worry about.
We provide warranties. Nobody wants to pay a huge repair cost only to discover that the appliance stops working again shortly after. Regardless of the repair service, we offer a guarantee on all our appliance repairs.
We have been in the business for more than a decade. Although this may not be a perfect indicator of quality, any appliance repair company having a long business history shows that they are successful and trustworthy. With our years of experience in the appliance repair industry, you can be sure to receive the best appliance repair and maintenance service. In addition, we regularly train and re-train our technicians in the latest methods of repairing any home and commercial appliances. We will run a diagnosis on your appliance, give you a comprehensive report on what went wrong, what needs to be done as well as the cost implication. Regardless of the nature of the repair works, we don't ask for any addition cost. What you see is what you pay! Our appliance repair service in Los Angeles will save you money that you would have used in replacing a faulty home appliance.
Dishwasher Repair Los Angeles Service
A dishwasher that breaks down will definitely add more time to your daily routine list. While you may think that putting off dishwasher repairs and manually washing your dishes will save you a bit of money, the truth is that you may end up paying more both on the repair and your water bills. Instead of suffering or incurring expenses, facing food wastage (in the case of refrigerator or freezer) or replacing the appliance(s), the best thing is to consider having it repaired immediately. Repairing the faulty appliance will help fix the cause of the breakdown and get your home appliances functioning as effectively as they did before.
See What Our Customers Say About Our Los Angeles Appliance Service
5 out of 5 stars
We will call no one other than ifix appliances for any appliance repair. Mike is very professional, quick and straight forward. Very reasonable and same day service. Don't waste your time trying others- mike will come through!
Reviewer: Ayman A.